The Anterior Cruciate Ligament: Reconstruction and Basic Science
Editor in Chief: Chadwick C Prodromos, MD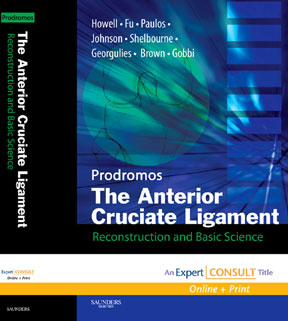 This First Comprehensive Textbook on the Anterior Cruciate Ligament Features:
Over 80 chapters covering the full range of important topics relating to ACL injuries and their reconstruction.
Accompanying DVDs with over four and a half hours of surgical footage and technique demonstrations.
Access to the accompanying website with regularly updated content may also be purchased for a nominal fee.
If you are interested in purchasing a copy of this book, please for details.
Read a review of this book, originally published in The Journal of Bone and Joint Surgery, 2008
Copyright © 2008 by Saunders, an Imprint of Elsevier Inc .